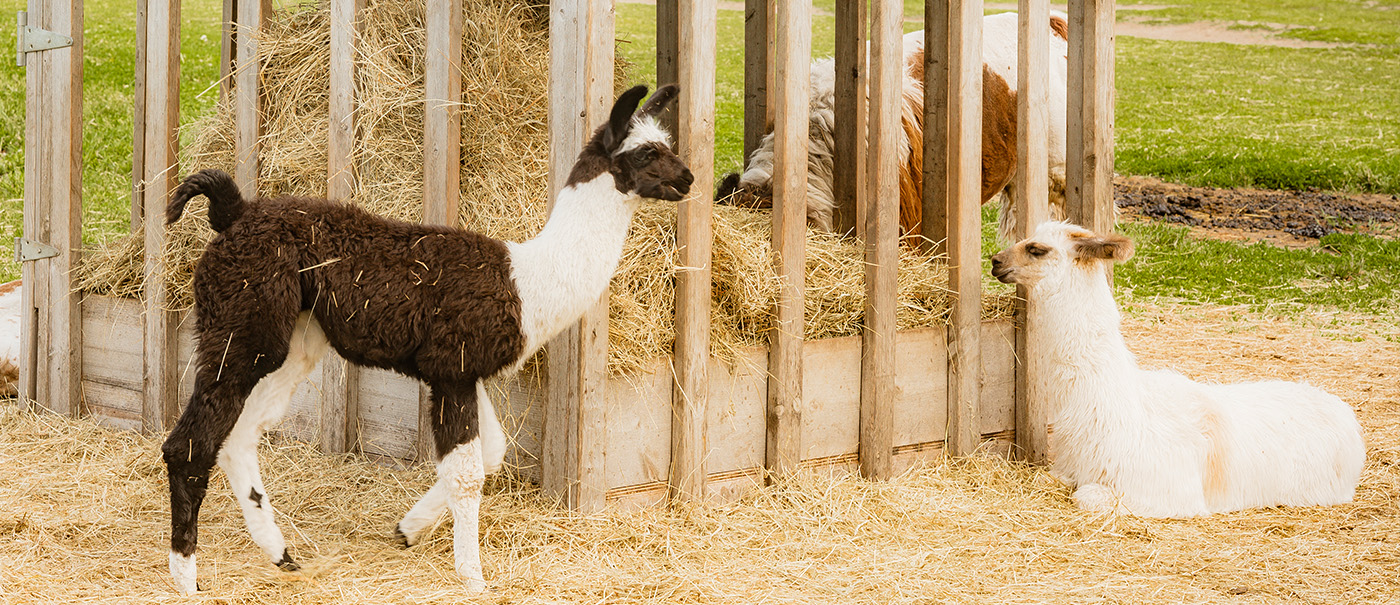 Morning Mug Series: Carlson's Llovable Llamas
Before most people are awake, there are those who are up brewing coffee and thriving. Those who seize the day and do something unique with their mornings. In this series we'll be introducing you to some of these people, what their mornings look like, and what motivates them. We recently went to visit Carlson's Llovable Llamas, chatted with founder Rick Carlson, got a tour of his farm and a feel for his day-to-day with the llamas and their visitors. Best of all we got up close and personal with these gentle, curious, sunny dispositioned animals that are sure to make you smile!
Hi Rick! When does your day start and what kind of chores are there?
Well, 7 o'clock, probably an hour before the first group farm visit. Not many chores to it – feed them a little grain, catch llamas, right now they're all caught down there ready for the day's visitors.
What do you mean by catch llamas?
Halter them up, because they're out in pastures overnight.
Do they come to you easily?
Oh, I don't know about that! They don't want to be caught. If they're running in the big pastures out there they're harder to catch. You call them up, give them a little grain in the barnyard, then they're in a smaller area and much easier to catch. Oh yeah, they like their freedom. At night they go back out to the pasture. So chores is nothing, chores are easy. It's the catching the llamas, and it's the group visits that are the big part.
How many groups visit each day?
Let's see, today we have 5 or 6 small groups times 3 helpers, so 18 groups today, an hour and a half long timeframe each. This is a simple day! Usually we get birthday parties, groups of 20-25, community education, school groups, you name it. Yesterday we had a school group visit the farm with 60 people.
Oftentimes we go out to do events as well. We do birthday parties, we have a graduation tomorrow, we visit a lot of nursing homes. At a nursing home we bring 2 llamas, we can't have a whole pile there. Yesterday we did an 8th grade graduation, 400 kids came out to see the llamas at various times. I brought 4 but probably should have had more. We've done Sever's Corn Maze, this year they've called already and want us all 7 weekends they're open. Every place llamas go, people come. And COVID – that was just off the charts! People were looking for things to do with the schools closed and with staying home. We were open that whole time for small groups because we are outside, and we were just swamped.
How many animals do you have?
We have about 60, and right now we've got the babies. There's 9 babies in there right now. They're born in the spring so March 18 was the first one, and 3 or 4 weeks ago was the last one. You can go in there and mingle with them as part of your tour.
What led you to start this farm?
This was all by accident (laughs). Totally a hobby gone out of control. We got llamas, that was a plan. They're very mellow, gentle animals, good with kids, good with people… so when our kids were little years ago, it was just a good animal to have. Nobody'd get hurt because they don't kick, they don't bite, and they're very easy animals to take care of.
Then I started the Carver County 4-H project, and we are in our 21st year. That kept getting bigger and bigger, so I kept buying more llamas to meet the needs of the 4-H kids. We had over 100 kids in 4-H four or five yrs ago. Then I kind of sold off some, thought I was going to retire, but that hasn't happened.
So that was the plan, getting a gentle animal, something a little different and 4-H. Then because 4-H got so big, we branched out and started doing bday parties, field trips, farm visits, you know, everything just kept getting bigger and bigger – and now it's this. I do not spend a penny on advertising, we have the website but we are just so well known, the word of mouth is huge.
Do you name all the llamas? Do they all have different personalities?
They do! They're like people – everybody's different, different color patterns. They're all named except the babies. At the end of the season in September we have a 4-H picnic and the kids submit names for the babies prior, and everybody votes at that picnic. I tell them I don't want common people's names, and I don't want Brownie and Snowflake, I want something unique!
We have one llama named Halley who's about 15, you know Halley's Comet, and so everybody in her family tree had a name to do with constellations, stars and stuff. Harry Potter really generated a lot of names. Something fun and different! One of the llamas is named Zendaya, I think that's an actress. But she's not named after her, then it would be a common name! Zendaya means "to give thanks", and she ended up being born on Thanksgiving Day. By then the other babies had all been named, so I just sent the kids home to pick a name and that's what they came up with.
Do you have a favorite?
Sure! You want to see the farm favorite? He's over here.
Everyone knows the favorite?
Oh yeah. Here he is, Zorro – he's the celebrity, farm favorite, he is a handsome guy. He was born here, and he's about 19 now. You can give him a big hug. He's our first choice to take into the nursing homes, because he's so good. He'll do elevators, he'll do steps, and he's been in a commercial for eHarmony. If you need a date he's the most eligible bachelor and he loves hugs and kisses.
Do you groom them?
They get haircuts in the spring to keep them cool in the hot summer, and to get the fiber. Very good, very nice high quality fiber, you can feel how soft they are. We send it in to to Mystic Waters Fiber Mill in Wisconsin to be processed and get it back as yarn that people can buy.
What's something people may not know about llamas? Or one unique thing?
Not know? Well, everyone knows about spitting, they are part of the camel family so they all spit, but they spit for a reason. They're not just going to haul off and let ya have it. But one unique thing? I don't know, there are so many unique things!
My favorite thing is probably babies and the birthing process. Llamas only have babies in the day time. Because predators come out at night, they're smart enough to only have babies in the day time and the babies are up and running around in about half an hour. So by nighttime they're totally protected from any predator. They also pick what time of day they want to have their babies, so if we get a rainy day, they're not going to have a baby. If there's a week of rain they hold it, hold it, waiting for the right time. The babies are between 20-31 lbs when they are born, but they are hidden in the belly of that mom and you'd never know they were pregnant. They're pregnant for 11 and a half months but you cannot tell by looking at them. We know, because we control the breeding. When they decide to have that baby it's about 5 minutes, but they give you no sign they're going to have their baby. They'll be due or overdue to have their babies – nothing, nothing, nothing, then you go up there and all of a sudden there's a baby running around. All those things put together, the birthing is so fun, so unique, so different, so cool.
Describe your perfect morning.
Perfect morning? (laughs) Oh goodness I don't know… To see people come here and have fun? Hopefully it's not raining – though we are on rain or shine. Just seeing groups come, have fun. These helpers we have, they come and help on weekends. We get a lot of 4-H kids to come back and help, and they learn a lot. Tell me, what was your worst class in school?
Speech class! Public speaking!
Right! Most people at that age are deathly afraid to talk, like me I hid till I couldn't hide anymore, now I talk like crazy and don't shut up! Speech is such a horrible class, this gets these kids out talking to the public, they can show what they know, it builds those presentation skills, it's huge!
What's the most rewarding part of your job?
People. Definitely the people. Well you know, you see all these kids come to visit, they're shy. Before they leave they're gonna be leading a llama. You see these kids kind of blossom, all the special needs groups, the senior citizens, it just makes them feel good. I remember this one girl who just loves llamas. She came out here for this unique opportunity, did all the llama stuff, brushed them, gave them treats, led them, and before she leaves she just sighs and says "I can die happy now!" Those things are cool and just so rewarding. Everyone thinks I have this passion for llamas – I don't know, they're cool animals, but it's the other things that are the good part. The llamas are good, the people are better.