Our Morning manifesto for choosing cheer
Morning, friend. When the sun is up, your favorite mug is out. Ready and waiting. These beans are roasted with a small town heart for your super big joy.
Good things come to those who wake, so resolve to keep your mug half full today!
HOW CAMERON'S
CAME TO BE
In 1978, Janie and Jim Cameron had trouble finding good coffee beans anywhere within 100 miles. Jim made it his mission to bring specialty coffee to their local grocery stores so that everyone could enjoy exceptional coffee at home.
Bill Kirkpatrick decided to acquire Cameron's Coffee in 1993 after a little soul-searching. With a vision for bringing superior coffee to larger, coffee-savvy audiences, he expanded the local Cameron's coffee roasterie into a state-of-the-art roasterie, still in use today. Today the Cameron's facility in Shakopee, MN is still crafting cheer with small-town heart.
Featured Team member
Joe Bushman
On its way to your house, all of our roasted & packaged coffee ships from the Finished Goods Warehouse, which is where you'll find Joe – leading the charge. Known for being calm (even while managing one of our busiest areas!) Joe has been an essential member of the team since 2017. Thanks for everything you do, Joe!
FAVORITE BLEND
---
A Small-Town Start
1978
Jim and Janie Cameron begin building their dream of a specialty coffee company
1980
Cameron's Coffee founded in Hayward, WI
1981
Opened first, and only, Cameron's Coffee shop to sell coffee products to the community
1982
Cameron's first retail partnership begins with Byerly's supermarkets
1993
Cameron's Coffee acquired and the coffee love continues
2008
Minnesota roasterie opens
in Shakopee and the real magic begins
2009
Cameron's begins their semi-annual warehouse sales, hosted at their Shakopee roastery, allowing fans to visit and shop their favorite blends (*online only sales conducted 2020-2022 due to COVID-19)
2012
Cameron's launches EcoPods—single serve, filter-brewed, earth-friendly design
2014
Cameron's updates its packaging to reflect its cheery, friendly personality
2017
Cameron's introduces Andy, the earnest and lovable barista who constantly needs to be reminded that always-smooth Cameron's tastes great on its own and doesn't need all the added stuff
2019
Cameron's now available in all the lower 48 states across the US
2020
Cameron's expands to a second warehouse space in Shakopee, MN, allowing more room for storage and production of always smooth, never bitter coffee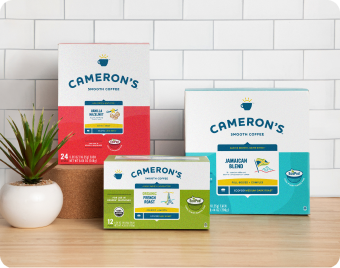 2022
Cameron's refreshes logo and packaging to better reflect their cheerful, friendly, bright personality
---